Death Valley National Park is the largest U.S. national park outside Alaska. While the park has over 1000 miles of paved and unpaved roads, more than 90% of the park is considered wilderness. 
The valley known as Death Valley lies between two mountain ranges: the Panamint Range and the Amargosa Range. The lowest point in the valley, the salt flats of Badwater Basin, is also the lowest elevation in North America at 282 feet below sea level. The best place to get an overall view of the valley is Dante's View, shown below. The valley also tends to be the hottest place in the country during the summer, with temperatures well over 100 ºF during the summer. During the few days we were there in mid-October the high on one day reached 101 ºF. 
When many people think of Death Valley, they think of desert and sand dunes. There are three sand dunes in Death Valley, but they are small relative to the vast area of the entire park. We visited Mesquite Flat Sand Dunes because it is located right on one of the main roads through the park. The first time we were there was when we first entered the park. The wind was blowing so hard and there was so much sand in the air, we decided to come back later.
The wind died down later in the afternoon. When we arrived, there was a photo shoot going on, which made for an interesting picture of the large sand dunes and the mountains in the distance. We explored the dunes, trudging through the sand, looking for places with relatively few footprints. We wandered a good distance from the parking lot, so we decided to stay until sunset, hoping for something special. The best color turned out to be opposite the setting sun, looking toward the east to see the deep blue of earth's shadow and pink Venus' Belt.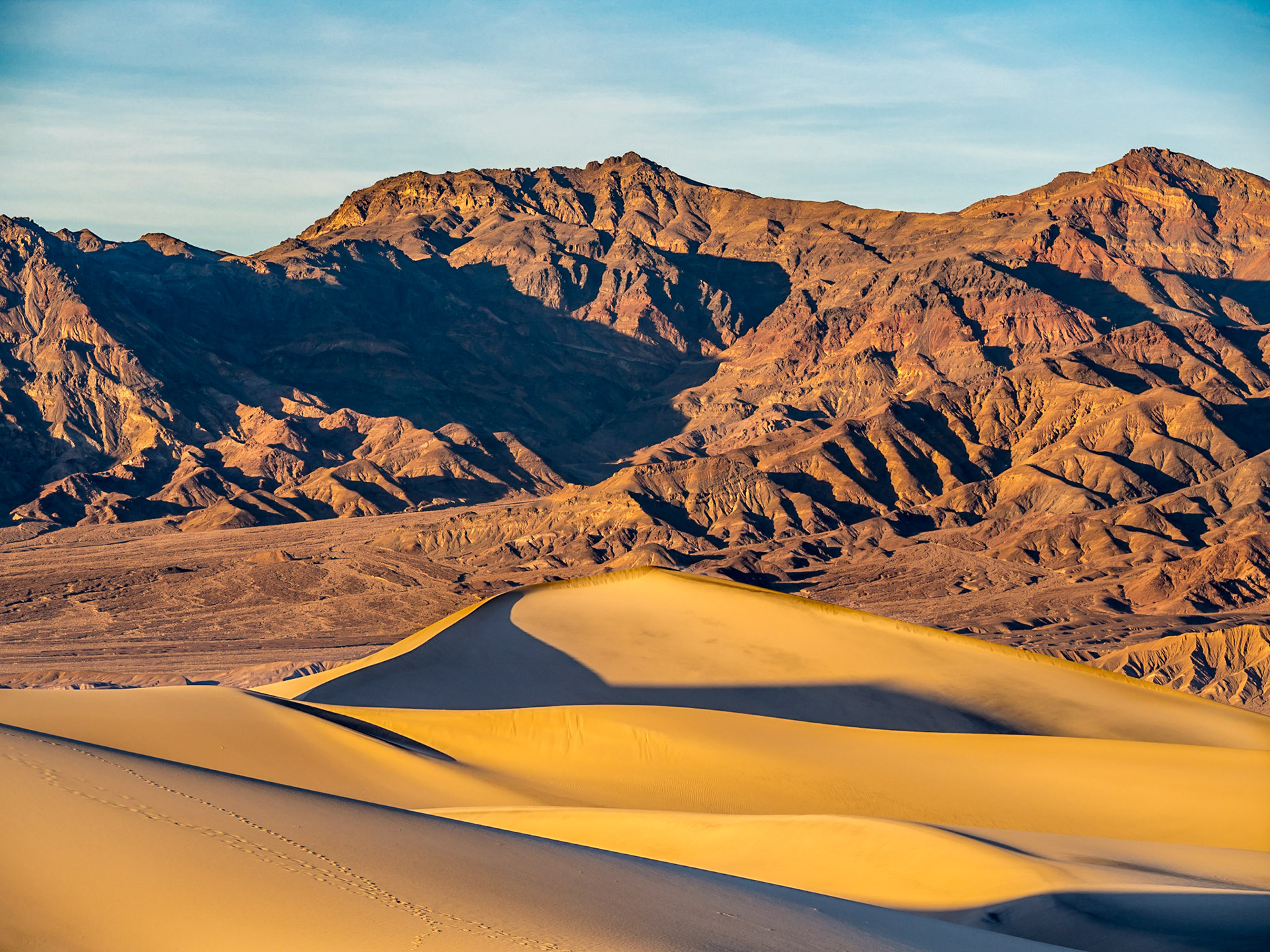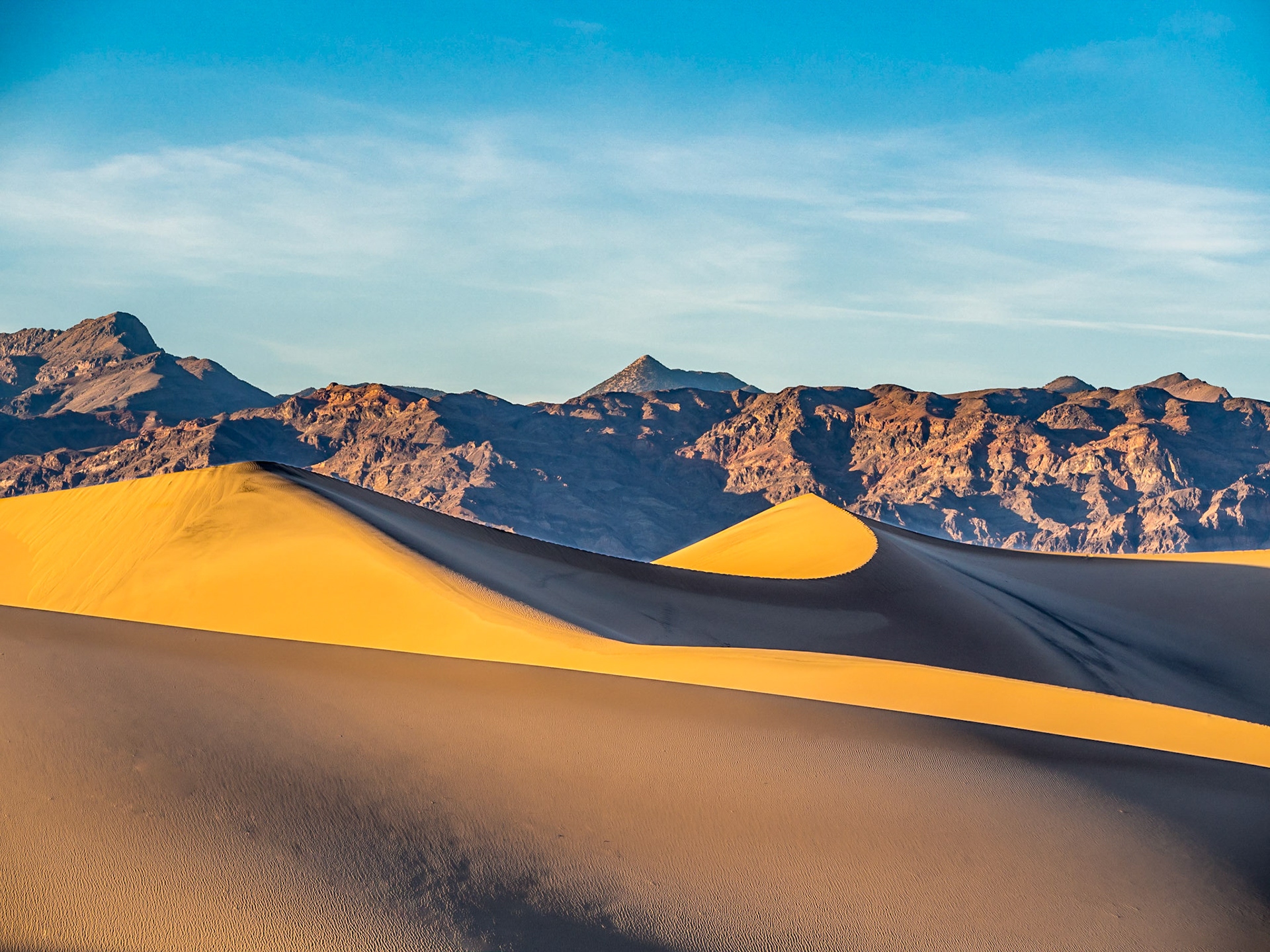 Multi-tonal and Multi-hued Rock
In addition to salt pans and sand, portions of the park feature multi-toned and multi-hued rock. To me, some of the rock looks like chocolate-swirled ice cream, such as that seen from Zabriskie Point and in the Twenty Mule Team Canyon.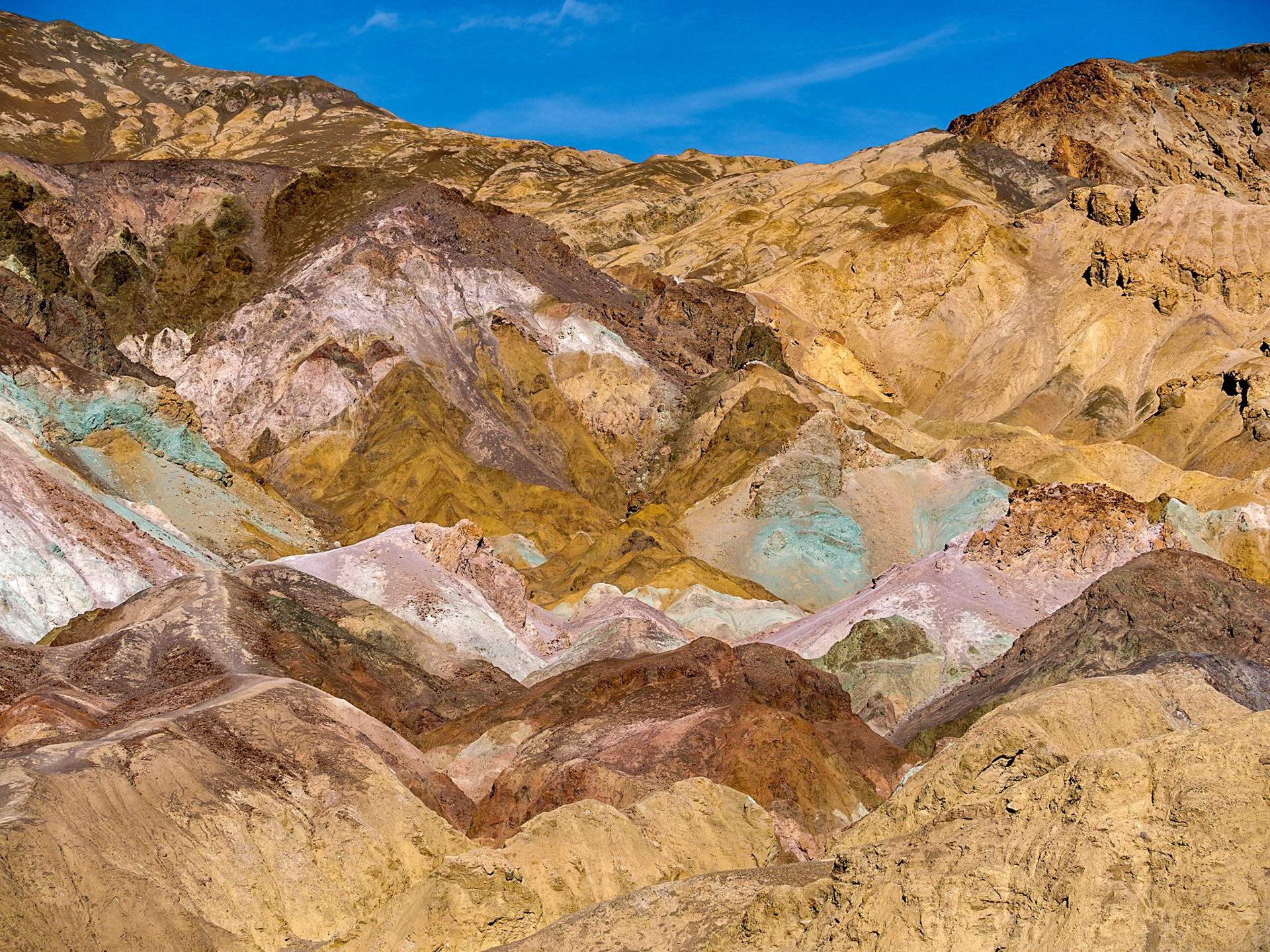 The Ubehebe (pronounced U-be-he-be) Crater, 600 feet deep and a half-mile across, was formed around 300 years ago when rising hot magma reached with ground water and caused the resultant steam to explode. The deep gullies on the side of the crater were formed by erosion. The crater is located in the northern part of the park, away from the most popular part of the park, and most visitors.