With Covid spreading like wildfire throughout the US we decided not to go up to the Chicago area for Christmas and instead spend it in Chase City. As I've mentioned before, the sunrises and sunsets at the farm can be amazing, and this visit had its share. Here are some photos from two sunsets and one sunrise. The sunsets feature the birdhouse on a fencepost, one of my favorite subjects at the farm.
For the past couple of months I've been trying to capture the PNC Building in downtown Raleigh with the moon balancing on top of it. To make the photo more interesting I want the moon to be relatively large. The "trick" to getting the moon large is not just using a longer focal length but to get far away (and then also using a long focal length). I've only been able to find a couple of locations for such a shot. The location needs to be around a mile away and also needs to have a clear view of the downtown buildings. Also, this type of photo needs to be done shortly after moonrise or before the moon sets. And it helps if there aren't any clouds in the sky.
I've not yet been able to get exactly what I'm looking for, but I've been close. Here are some photos of my efforts, including a test shot of the moon over 2 Hannover Square. I'll keep trying and maybe one day I'll get it right.
Denise ventured out to Kenly, NC to visit the Tobacco Farm Life Museum to see if it was a place that Denise's mom might like to visit some time in the future. Our visit there started with a video about how they farm tobacco nowadays so we could have a feel for the advancements that have been made over the past 100 years or so. We then walked through some exhibits inside showing scenes and equipment that was used in the past. After seeing that, we then strolled around the buildings on the site that are all probably about 100 years old. The interior of some of the buildings reminded me of Denise's grandparents house. The paneling on the walls looked to be the same pine beadboard that was in the old house. There was even an old one room schoolhouse from the 1890s.
We were driving north to the Chicago area to attend a wedding and on the way we stopped in western Virginia to do some hiking and check out the fall colors. The trail I wanted to explore was part of the Appalachia Trail up to Dragon's Tooth, which also part of Virginia's Triple Crown of hikes. The hike was rated as "difficult" and some descriptions of parts of the trail made us wonder if this was something we really wanted to tackle. But we decided if it got too difficult, we could always turn around. Indeed, there were some places where hands were required to scramble up rocks and iron "ladder" steps (which was actually much easier than it looked in photos). Denise thought it wasn't as hard as other hikes I've taken her on. 
When we got to the top there was a pinnacle (the Dragon's Tooth) that looked more challenging. Of course, I had to try to get up there and, as usual, it was trickier getting down than it was getting up. The view from the top was nice, though there was still a lot of green in the trees, which surprised us given the time of the year. 
Before leaving the area we decided to drive down a country road we had been driven down years ago. The road is rather narrow and there aren't many obvious places to pull over for photography. To solve that problem, Denise drove and stopped upon command to let me out before proceeding to drive down the road looking for a place that would allow other traffic to squeeze by. The colors in this area were better than on the ridge we had hiked.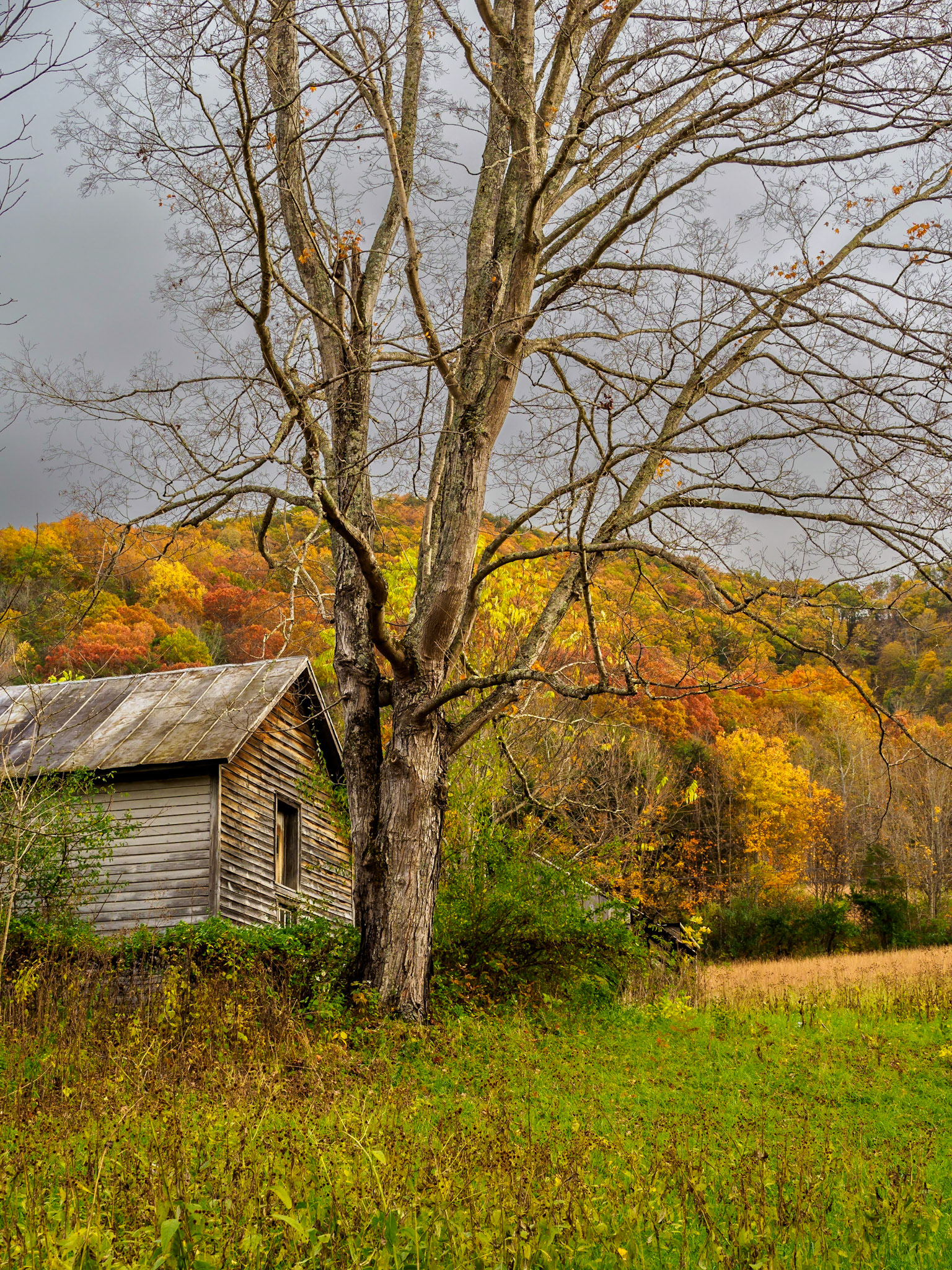 We enjoyed our journey through Virginia on our way to the wedding so much we decided to go back for more on our way back home. This time our mountain exercise was to hike another one of Virginia's Triple Crown: the Andy Lane Trail and Tinker Cliffs. This trail was longer and included a long stretch of steps, which were hard going up and more painful coming back down.
As the fall progressed this year, Denise and I both thought it was going to be a drab autumn. But then late in the season, the color of the leaves exploded and the trees put on one of the best displays of color we can remember in a long time. They seem to be more saturated and lasted longer than usual.
New River Gorge National Park
We visited one of the newest national parks on our way back home from a wedding in the Chicago area: the New River Gorge National Park. This national park includes several areas around the New River in West Virginia. We stopped for a few hours and hiked on a few different trails around the river. There are a number of places in the park I'd like to visit in the future, so there is something to look forward to doing some day soon. Here are some photos from our first trip there.
Texas to Illinois and Back Home
We made plan to go see my Mom for Mother's Day and we decided to make it a loop trip from Raleigh to Texas, up to Illinois, and back home. Yes, going through Texas is the long way to get to Illinois, but it was more fun than just going straight up to Illinois and back. We went to Texas to visit my cousin there and we visited my best man on the way to the Chicago area, allowing us to have a great time visiting folks we hadn't seen in a while.
On our way to Texas, we stopped at Cheaha State Park in Alabama which is supposed to be the prettiest state park in Alabama. Unfortunately for us, they were conducting a controlled burn in the area at the time, reducing the visibility and making the pretty hard to see. We were thankful we had Covid masks as they made breathing a little bit easier as they kept out the smokey air.
After our visit to Kerrville, Texas, where we saw an incredible storm cloud from a safe distance, we drove north and stopped at Hot Springs National Park and Petite Jean State Park in Arkansas, Ha Ha Tonka State Park
in Missouri
 and some Mark Twain-related spots in Hannibal and the State Capitol in Jefferson City, Missouri.